Moose Jaw Pet Care
The products and services at Gary Overs Kennelling & Obedience are unmatched in the Moose Jaw area. Read through the details of what we have to offer below. Then, give us a call to learn more and to book your furry loved one's stay today! Also check out our grooming services and obedience classes we offer on the grooming and obedience pages!
Our Facilities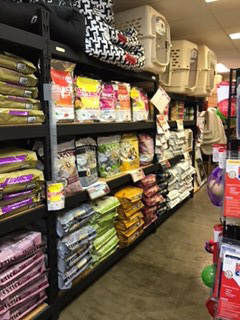 The store at Gary Overs Kennelling & Obedience carries a complete line of premium pet foods including holistic lines of both dog and cat foods. As well as pet nutrition, we carry a large assortment of treats, toys, collars, leashes, and portable kennels. A full line of biogroom products are also available for your pet care needs!
Special orders are available upon request. We also offer free delivery of pet foods within city limits of Moose Jaw.
Day Boarding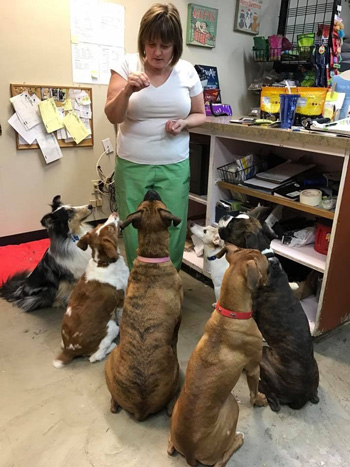 All day boarders have access to our play yard!
Puppy Socialization
Great way to introduce your puppy to a multitude of people, sights, places, sounds, and other dogs.
All socialization is done under staff's watchful eye.
This aides in helping to develop a confident and well-adjusted pet.
Rates
Full Day: $20.00
Half Day: $15.00
Boarding
Dogs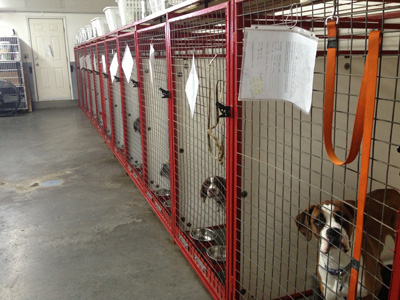 Our kennel system has 24 spacious and heated indoor/outdoor runs, including two oversized kennels which can easily accommodate extra-large breeds or multiple same family dogs. All of our outdoor runs are fully covered from the elements and self-contained. All of our boarders have access (at owner's request) to our fully fenced outdoor exercise compound or our separate 12' x 14' exercise pen. All runs are separated by non-porous puckboard to aide in prevention of visual intimidation and fence fighting.
We encourage all overnight boarders to bring their own food, packaged in individual ziploc bags with the date and times to be fed marked clearly on each bag. We recommend you bring your own food for your dog to prevent diarrhea at the kennel and when they return home from their visit. If food is not provided there is a $2.00 charge per meal per dog. We also recommend that you consider upping your dog's amount of food during their stay, especially if it is over a one week stay. The dogs get a huge amount of exercise and activity during the day and will burn a lot more calories than they would on a regular basis.
Rates are:
$30.00 for one dog per day
Two dogs from the same family sharing the same kennel is $40.00 per night
Three dogs from the same family sharing the same kennel is $50.00 per night
(GST included). Special rates available for extended stays. All boarders staying three nights or longer will receive a complimentary bath and blow dry.
Day boarding is available at a rate of:
$20.00 full day
$15.00 half day
Half hour walks are available for an additional cost. If you would like to request a quote, give us a call at 306-692-6011.
We encourage our clientele to book well in advance for peak seasons and statutory holidays as kennelling spaces at these times fill up quickly. A non-refundable deposit is required over the Christmas season. Grooming services may be booked for any dog during their boarding stay at an extra cost.